You are here:
Home
/
Audi Car Service
AUDI Car Service, Repairs, Bodywork, MOT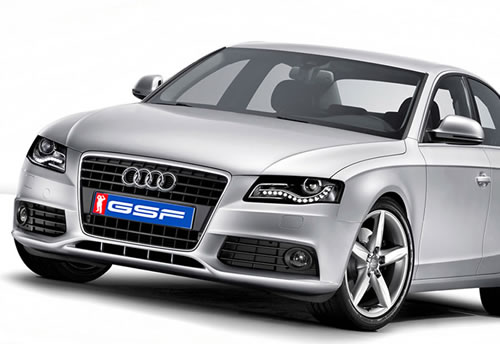 Originally established in 1885, automobile company Wanderer became later a branch of Audi AG. On 25th April 1910 the Audi Automobilwerke GmbH Zwichaw was entered in the company's register of Zwickaw registration court. The first Audi automobile, the Audi Type A 10/22 hp (16kW) Sport-Phaeton, was produced in the same year followed by the successor Type B 10/28PS in the same year. After several businesses merged the new company was known as Audi NSU Auto Union AG; and saw the emergence of Audi as a separate brand for the first time since the pre-war era.
GSF Motor Works is one of the largest independent Audi car servicing workshops in Central and South-West London. In our garage the Audi car owner can have the service, repair and the maintenance of his car carried out cost effectively by our mechanics in line with the manufacturer specifications. GSF Motorworks has the latest diagnostic equipment and can carry out MOT testing as well as premium quality Audi bodywork repairs.
ALL ABOUT YOUR AUDI SERVICE
We are Audi Specialists and service centre. Depending on the model and your driving style, we apply either a fixed service schedule or a flexible service schedule. Both schedules include an Audi inspection service followed by an oil change service in the time and/or mileage Audi recommends. In our workshop we can carry out MOT tests as well as Audi repairs and bodywork.
With GSF Motor Works you maintain the Audi Warranty as we strictly adhere to Audi Servicing specifications, use dealer level Audi diagnostics equipment and apply Audi approved parts and accessories. The Audi Service Cost with us is a fraction of what main dealers charge. What we offer is not a cheap car service as many independent Audi garages do – we offer a trusted value for money alternative.
We can serve customers with Audi in SW London, West and Central London areas.
Are you looking for a Audi key replacement? Do you need to have your Audi checked for wheel alignment? Do you want to have dents and scratches fixed or are you looking for some more serious Audi accident repair? Or is it just about a simple service, and want to ensure that a proper Audi diagnostic process will be applied?
---
We can provide for all your vehicle's needs. Contact us for a quote now!
---
Terms & Explanations
There are two types of Audi service schedule available and these depend on your driving style:
Audi Fixed Service schedule
Audi Flexible Service schedule
Furthermore we recommend an Audi car service on a fixed schedule when the vehicle is frequently used in the following conditions, irrespective of the mileage completed:
Uneconomical driving styles, i.e. heavy acceleration and braking, constant use of high revs
High engine loading conditions, i.e. frequent towing and hill climbs
Traditional Scheduled Service Intervals
There is always a major service followed by an oil change service and vice versa.
Fixed Inspection Service
Flexible Service Schedule
Recommended for:
A) Less than 10,000 miles per annum
A) More than 10,000 miles per annum
B) Mainly city / town centre driving
B) Motorway and main road driving
C) Short journeys
C) Mainly long distance journeys
Oil Change Service
Fixed to every 9,000 miles per year
Variable to a max of 19,000 miles every 2 years
Inspection Service
Fixed to every 19,000 miles per year
Fixed to a max of 19,000 miles per 2 year period
During an interim oil change service we also change the oil filter and check all lights, dashboard warning lights and horn function, windscreen wash system and wiper blades, mirrors, door locks and bonnet, battery, coolant level, clutch function, hydraulics and power steering fluid levels, front and rear break pads and discs, gearbox, steering and suspension check. We also conduct a visual check of the exhaust system and the brake system for leaks and damage, under body check for loose parts, front and rear axle checks, tyre condition and pressure check, and the bodywork for any damages.
During a major service, on top of all tasks carried out during an interim service, we replace the air filter, and at an additional cost we can replace the fuel filter or spark plugs / glow plugs if necessary.
Our lead engineers always overview and check any work done on your Audi, and they finally conduct a thorough road test.
ADVANCED DIAGNOSTICS EQUIPMENT

Our tools are regularly updated to address all complex electronic systems of the latest models.
MAINTAIN MANUFACTURER'S WARRANTY

Strictly adhere to service schedules, specifications and use manufacturer approved parts.

Kick off any major service with a rigorous vehicle check to maintain high performance and on the road safety!

We are based in Battersea, just 10 mins drive from Chelsea, Wandsworth High Street and Balham,12 mins from Westminster, Elephant & Castle and 15 mins drive from Fulham Broadway.

We liaise with insurance companies, help you to recover your vehicle, we can even provide you with a courtesy car for your convenience.* * subject to terms & conditions
MECHANICAL AND BODYWORK REPAIRS

We undertake all types repairs but also restoration projects, engine rebuilds, performance tuning as well as other more common tasks like tyre fitting and wheel balancing.
I took my BMW M5 to GSF for some general cosmetic repairs as after owning the car for the past ten years from new, I have reluctantly decided to sell it. From the outset, the team were on the ball, attentive and very professional. The service advisor, Michelle, is a delight, She is always laughing but never seems to drop the ball. She is also very articulate and has an attention to detail. The main assessor there is a guy called VIP. Clearly very experienced , he missed nothing and knows his cars and each model. The quote to make good was extremely competitive and the quality of the work was perfect. I would recommend them to anyone. In case anyone thinks this is not an independent review. please contact me.
Went for a general service in my Polo. A bit far away from my home in Old Street, but fair in pricing and fast.
Couldn't give enough stars ! They helped me out at the last minute and were so helpful. Definitely using them for all my car work in the future. Roberto was amazing. Thank you.
I had a great experience with GSF. They were very helpful and friendly and fitted me in very quickly. The work which they have done is fantastic and if I ever have a problem with my car again I will be sure to return to GSF. I would also highly recommend them to anyone who is in need of any car help. Thanks to the team for doing such a great job on my car, she looks brand new 🙂
Very Happy with the service. Was there a couple of weeks ago for some bodywork Will use them again for my mot and service
From start to finish, GSF provided an excellent experience. Comment relates to service/ MOT of Audi A3. All the staff (including initial call, car pick-up and servicing) were courteous, helpful and knowledgeable. As well as this excellent customer service, the price was reasonable and the turnaround quick.
Great service, very good communication. We get our (ageing) Audi A4 serviced here. Thanks guys
I dropped off my car to have the tracking reset and asked Roberto at GSF to also look at a couple of other issues that were affecting our car. They did all the work efficiently and fixed all the problems. The great news was that they only charged me for the tracking job, which was very reasonable. I would highly recommend them and would use GSF again.
GSF did a fantastic repair to my BMW Z4. You would never know that the bumper had been replaced and sprayed to match the existing colour. Great costumer care and the excellent valet was added bonus.
I have been using GSF for years. Would highly recommend them to anyone.
I was recommended this Garage who by a close friend. As new customer they immediately gave me a good feeling of competence and knowledge about my vehicle (Renault). Major server was completed without issue using good quality fluids and they pointed out (and fixed) some safety issues my previous garage had missed. The tracking was adjusted perfectly and the car drives perfectly now. Overall Very happy and will return when the next service is due. Thanks a lot GSF !!
Found this garage to be very helpful and also extremely professional. They did a great job on my Range Rover from a simple service to diagnosing a fault with my alternator. But the best bit of it all is the price competitive and also the labour charge is alot less than any main stream garages plus the work is 100% bang on, so will be using them again for my wife's Mercedes.
I went to GSF after moving to South Kensington to service my BMW 3-series. The staff were friendly and car-literate. Best of all they tell you when you can have your car back and actually stick to it. Previous experiences with other garages promising it will be ready in one more day etc are just a nightmare. I am going to make GSF my regular garage.
Great service. People were very helpful and polite. The car looked good as new and cost a fraction of what main dealer was quoting. Turnaround time was really quick too.
This is hands down the best garage I have ever been to. I wouldn't hesitate to recommend… and often do unprompted. Love these guys.
Many people told me that repairing of the clutch will take a whole day and that's the main reason why I really appreciate the efforts of these guys. They managed to repair it for about 5 hours and I was more than pleased by the job done. Thank you guys !
GSF MOTOR WORKS LTD
Unit E & F London Stone
Business Estate Broughton Street,
Battersea London SW8 3QR
Tel: 0207 819 9555 & 0207 819 9797